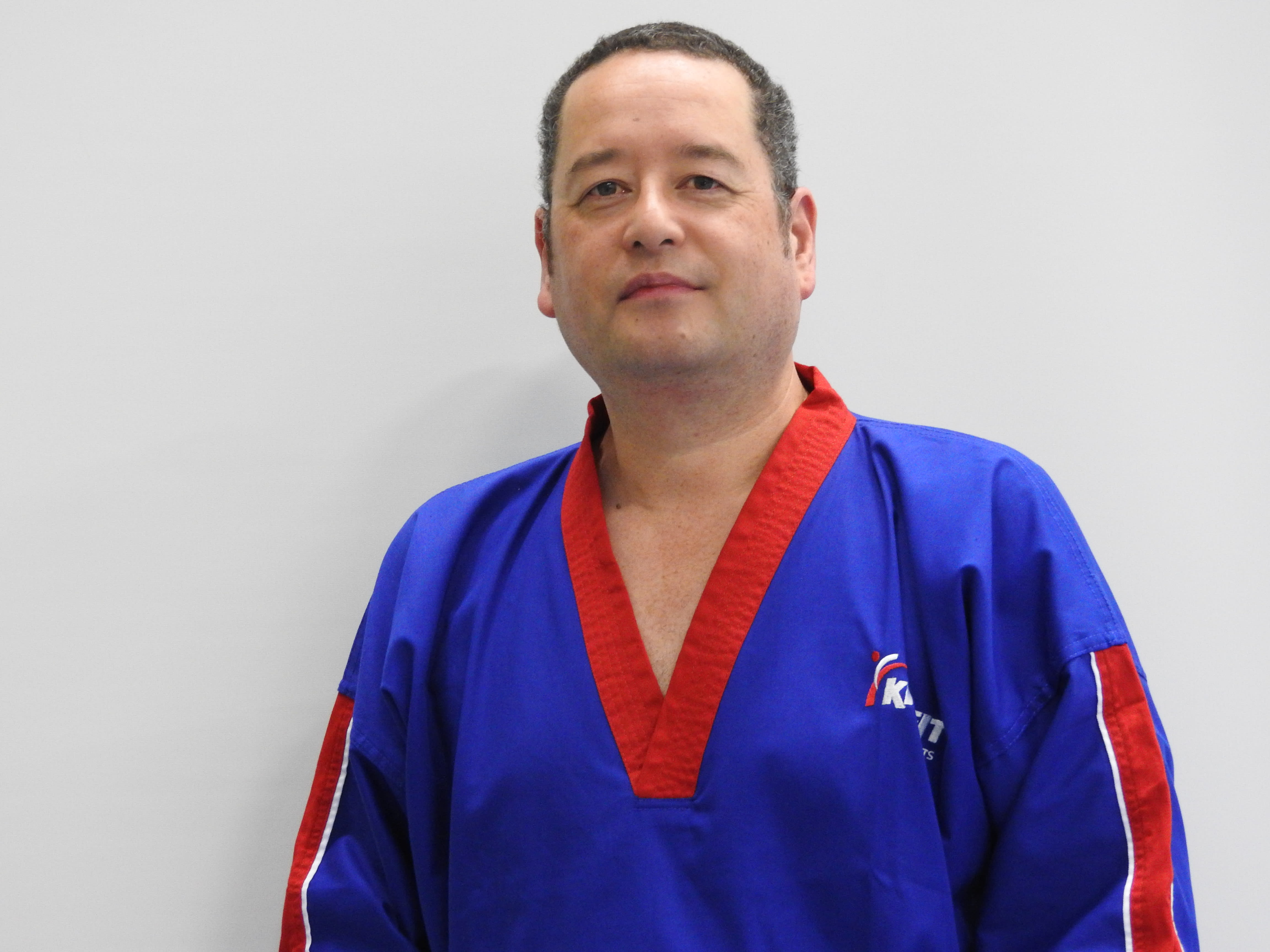 Ken Pankiewicz
Date Started Training: 1983
Current Grade: 7th Dan Kovar Satori Blend, 4th Dan Tae Kwon-Do
Profile: Kyoshi Ken Pankiewicz began his martial arts career in October 1983 in Eton, Berkshire. He was fourteen years old at the time and went to classes as his school friends had recently started training too. He learnt ITF Tae Kwon-Do under his instructor James Caulfield and quickly earned the level of 3rd Kup, red stripe belt. After his first class, Ken was so inspired by the martial arts, that he knew he wanted to be an instructor.
In 1989 he went to the University of Leeds to study data processing and whilst there, joined the university Tae Kwon-Do School run by former World Champion Kim Stones. It was here that he earned his 1st Dan Black Belt in Tae Kwon-Do in June 1990.
1997 was the turning point for Ken in his martial arts career. In October, he travelled to his first Educational Funding Company International Conference in Orlando, Florida. This event was attended by over 800 school owners from different martial arts backgrounds and was his first meeting with EFC Chairman Nicholas Cokinos. The meeting changed KenÆs view of the martial arts from just a physical workout to a life enhancing continuous program. Mr Cokinos continues to mentor Ken in his development and plays an important role in his personal and professional growth.
At an EFC training session in Sacramento in March 1998 Ken meet up with Dave and Tim Kovar. This was the beginning of KenÆs journey to evolve his martial arts training and learn how to empower his students through the martial arts. At Kovars, he started to learn Kenpo Karate, Jun Fan, Escrima along with important skills on how to blend styles together. Ken travels to Sacramento at least once a year to train with Kyoshi Kovar and in August 2008 was honoured to be tested for his 6th Dan in Kovar Satori Blended martial arts system.
Ken has been recognised by the EFC for his contribution to the martial arts in United Kingdom; KickFit Martial Arts Schools have been ranked as one of the top 3 schools since 2005. He has been asked to conduct seminars for school owners at the EFC international convention and supports the growth of EFC schools in the United Kingdom. KickFit has been recognised as a highly professional organisation and its methods and teachings are in demand from other school owners.
What started as a hobby twenty-nine years ago has evolved into a life long passion of self-improvement along with the desire to involve the whole community in the martial arts. Ken continues to strive for improvement and is reminded to stay on track by the following quote: ôthe true secret of concentration lies in the acceptance of endless distractions!ö